I remember this tweet of a friend of mine during the Christchurch, New Zealand Earthquake. It was actually his version of my original tweet:
"Dear Earth, before you might decide to come to an end, please let me go back to Japan, please?? Love, Tracy"
- from @tracydizon , February 22, 2011
Lately, I have been dreaming weird immigration stuff. Last night I dreamt I was in a long waiting line in China Immigration. Why?! Why on earth would I be in line in China??
The other night I dreamt I was watching a parade in Indonesia and eating some nice looking pink rice cakes. What have I've been dreaming lately?! All related to travelling.
Well, since my psychology class back in college, I've always believe in subliminal meaning of dreams. Everytime I dream of something, it reflects my subconscious mind's thoughts. So I always check Dream Dictionaries for reference... and to my surprise the definitions seems sensible.
So for entertainment, posterity and curiosity let's see what my recent dreams means. Please see the preceding blog post for the dream dictionary definitions. Haha. It is blog worthy to read one separate entry. Talk about multi-tasking I'm writing two blogs simultaneously. Haha.
Anws, I got inspired from Taka's tweet that's why I made it into my blog title. Seriously, when I think of doomsday, I feel sad that I won't get to go back to Japan. (So please Dear Mother Earth, please don't wipe out Japan from the face of the Earth... okay?? I will be very sad. Haha. ) And of course if doomsday comes soon, I wouldn't see the world anymore! I promised Atreyu we'll see the world together and show him all those stories I tell him every night. That's why I told myself I'll write about my bucket list of the places I want to go to around the world... In case I get to have my last wish... I'll just hand this list over. (and of course I get derailed from my short anecdotes. Haha. Sorry about that.)
When I was a child, my parents being a travel agent... I remember having this wall-size map of the world by our dining room. I think that's why I had a fascination about travelling and locating places, it's because of that map. I always look at it an pick the countries in pink. Haha! Oh I miss that World Map Wall we used to have.
I told myself when I get a place of my own, I'll have a world map wallpaper. That would be so cool and I would mark every travel destinations I have been to. I wanna travel the world!! I want to have something like this:
I want to have a World Map Wall Paper
But you know I have only come to do that in my crowded small apartment... In a poorly version of a map, it's not even a world map but hey it's the Tokyo Map I used to use. For sometime it makes me smile every morning I see it.
Haha. How poorly and messy this wall is. But I loved looking at it. Although I removed it now, I still love seeing that Tokyo Map lying around my messy apartment.
Anws, enough of those small anecdotes and I'll now list my Bucket-list of Travel Destinations I want to go to before the doomsday. Haha. Please let me travel the world. I wonder how long will this blog will be... I bet it's gonna be a very long one...
Tracy's Travel Destination Bucketlist:
1. Saint Basil's Cathedral, Red Square, Moscow, Russia
St. Basil's Cathedral, Moscow
Cartoon Network's Chowder
Atreyu's favorite cartoon
Of course the architecture of this Cathedral is worth seeing, but to my son's eyes he always says: "Uy bahay ni Chowder yan ah!" ("Hey! That's Chowder's house!") I think Atreyu is an architecture enthusiast, he notices this structures at an early age. I want Atreyu to see this in real. I bet he'll be amazed in the marvels of this! And he'll never get over Chowder's house in real life.
2. Statue of Liberty, New York, USA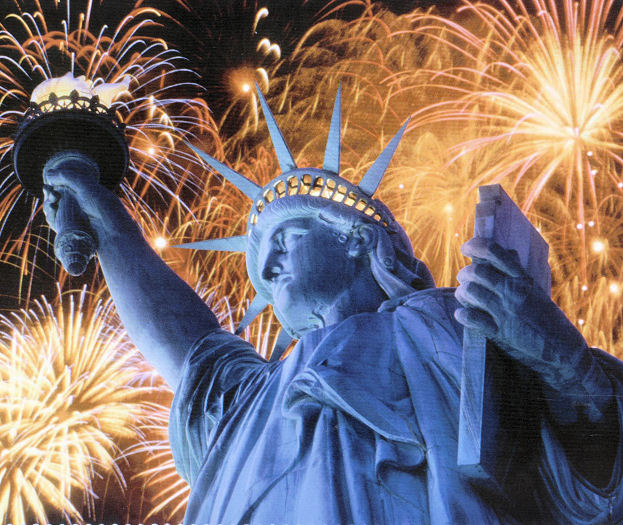 Fireworks and Ms.Liberty:
Atreyu's favorite things
I remember when Atreyu was 3 I always read him a book about the History of the Statue of Liberty. Atreyu calls The Statue of Liberty... "Miss Liberty" as if she's a real lady. He used to know it by heart... The story of Ms.Liberty, he knows that a guy named "Mr. August" created her. He always wanted to meet Miss Liberty. He always gets fascinated seeing New York, as girl as it may sound he likes watching Gossip Girl for the sights he sees and anything actually that shows The Statue of Liberty. He likes that old Ghostbuster movie because "Ms. Liberty" moved and fought with the ghosts. Haha. Atreyu just loves her. It is a must that they meet in real life.
And this is one of our happy days in our small apartment. Playing around and reading books. Hehe. Reading with Ms. Liberty~
3. Vintage Havana, Cuba
Vintage cars in Havana, Cuba
This is of course my dream destination. I'm such a sucker for vintage world and Cuba's restored world is my haven! Imagine like living in the 1950's with vintage cars and architectures? I just love it! All night party of mambo and salsa while drinking Havana Club rum and smoking cigars~ Oh this in one haven of vintage partying! I can't wait to go here and wear my vintage dresses and look like a pin-up girl! i bet travel photos would look so divine and timeless! The history, the architectures, the Che Guevarra iconography, the nice warm weather and the all night parties? This is my ideal place!
Although I must admit I wouldn't want to be taking Atreyu with me here... Sorry my son. He wouldn't have any fun here. This is more grown up travel haha. I need to have a fun travel companion to come here and party. Preferable someone with high alcohol tolerance. So I won't worry getting drunk in a foreign land haha!
Beautiful vintage architectures in Havana, Cuba I'll love every angle of it
4. Paris, France
Of course, being the fashion capital of the world, my true calling as a fashion designer would not be complete if I don't get to set my foot on Paris. Enough said. As pledge to my vocation as an artiste vis-a-vis a fashion designer... I shall see you before I die. Paris, you will complete me.
Paris, France
5. Harajuku, Tokyo, Japan with Happy and Dimple
Japan trip would not be the same without Happy and Dimple! My fellow avant-garde designer chicks! Dressing up and shopping would be sooooo much fun! Tokyo being the avant-garde fashion capital of the universe... coming here with my bestest designer friends, I'm okay to die anytime. Haha! The dream is, to go to Japan altogether for a contest! Oh when will that happen? Last year, it was Happy who got in, the other year it was my turn... may be this year it is Dimple's turn? When will it happen that we all go together?!? Haha! That would be so much fun! We'll hit on cute Japanese boys I bet hahah! If there's only one thing I love about Tokyo, it's that license to dress-up whatever I want to. I want that freedom!!!
May be when we're all fashion moguls we'll do that? And have our own shop in Tokyo? (Hindi naman masamang sumuntok sa buwan? hahahahaha) BTW, girls... we don't have a single photo together. It's heyday we should have one taken. haha.
6. Santorini, Greece
Temples of Santorini, Greece
Watching

Sisterhood of the Travelling Pants

made me want to come here. The crowdedness is oddly attractive. I think I have think odd attraction to crowdedness... me being an Southeast-Asian... I think it is a cultural trait (and also an excuse for my messy apartment haha) But seriously it is a cultural trait:
HORROR VACUI

- literally: fear of empty spaces, perhaps represented by white spaces, also known as cenophobia. I am the polar opposite of Zen haha.
(Anws, sorry I got derailed again.)
I imagine myself riding on a cute little donkey hiking the Village of Ia... I want a photo in that over-accessorized Donkey!! Oh that seems fun! I'll be wearing my big sunglasses and fancy colorful scarf! just thinking about this makes me excited!
I wanna ride this cute donkey!! So cute!!
7. Sphinx and the Pyramids of Egypt
Camel ride like in Paulo Coelho's "The Alchemist"
My sisters always tell me how surprisingly geeky I am with Egyptian History. I always watch this on the Discovery Channel those stories about the Pharaohs and the mythology behind it. I find it mysterious.
I can imagine myself in that camel-ride just like in the book "The Alchemist" That would be such a spiritual travel. Seeing those Pyramids would probably such a milestone moment for me as a human being. Those marvels makes me feel I am proud as a human being. To be able to see our roots as human beings... Egypt being one of the first ancient civilization of mankind. Okay I'm sounding really geeky now.
The Sphinx guarding the Pyramids
8. Red Bus Ride in London
11 years ago, I told myself I'll come back to

London

. It is still among my favorite places I've been to. Being an urban girl. Of course I really love London. I wanna watch a theater play at the

West Side

! I wanna see the punk street fashion. I want to see the architectures!
I wanna hang-out in Piccadilly! The ever so famous London's version of New York's Times Square! I wanna see the famous "Abbey Road" from the Beatles' album! I wanna see every fashion designer's dream school: Central's St. Martins! I have lots of things I want to see and do in London. I really must go back there. Me, being such a Beatles fan, being a punk girl, and everything else in between... London will always be a dear place for me. Those iconic busrides, those elegant black cabs, those London plays, Burberry fashion. Okay I'm going gaga. You get the picture already.
9. Red Light District, Amsterdam, Netherlands!! Whoo! I almost forgot!
Where marijuana is legal. Hahaha. Enough said. Haha. Kidding. I think Amsterdam is the forerunner of Avant-Garde Fashion next to Tokyo... having Viktor and Rolf as their local designers is one living proof how Avant-Garde aesthetics is so flourishing in this city. I should be here! I want to have a picture in those Red-Light District window display! How iconic! I wanna do it like

Marjorie Conrad

in this ANTM Cycle 11 excerpt!
This should be a very fun place! Crazy even! I can't help it! I feel like I'm moth ("Gamu-gamo") so addicted to the lights of the red light district! haha!
Come-on Baby! Whoooo!
Oooh kinky stuffs haha
Haha. This is starting to be so

naughty

! Haha. But I'm really curious with this kinds of things! i mean how are these things in real life. How do people around this area are? Makes me wonder about lots of things! This should be a fun place to go to with a girlfriend/boyfriend or something well a FUN BF or GF. I wouldn't want to go here with prude people and getting all freak-out with the crazy stuff happening haha! I dunno just a thought. haha
10 . Gondola Ride on the Canals of Venice, Italy
How Romantic!! <3
I always thought I will have my honeymoon here. Yeah, I'm thinking about honeymoon, I cannot even find myself a boyfriend. Haha. I cannot think of any other place in the world as romantic as Venice. Those Gondola rides seems so serene and romantic! Haha. Me and my fantasies?!?
Oh man, I have been writing this blog for 6 hours now?? Geesh. I feel tired haha I feel like I really went on these destinations! Haha. How I wish it's as easy as that! But I am not done. I better have a part two of this very long blog. Haha. So it means to say, Mother Earth, don't come to an end anytime soon, okay? I'm not done listing my travel destinations!